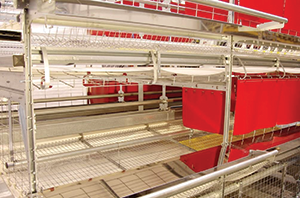 TECNO, an AGCO company, is a world leader in the design and manufacture of commercial egg production equipment.
Established for over 40 years, it utilises European-sourced materials, state-of-the-art automated in-house production and design to provide a superior product at a competitive price. Tecno provides a range of products to meet Australian and New Zealand customers' requirements.
Pullet rearing
Tecno believes pullet rearing is the foundation for great production results. Good rearing can provide more even weights with a better feed conversion ratio, allowing an earlier light increase in the layer shed. This can result in increased egg numbers and efficiency. To this end, Tecno provides custom systems to minimise stress and subsequent weight loss on transfer to the layer unit. Whether the layer shed is set up for cage, colony, free range, barn or cage free, Tecno has a system to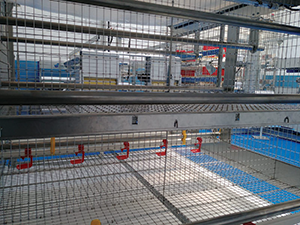 suit.
Aviary layers
Tecno does not believe in a one-size-fits-all solution. The company currently provides a wide range of aviary solutions to fit with customers' requirements and preferences. In addition, because manufacturing and design is in house, Tecno can often accommodate requests for custom features. This is particularly relevant when fitting out existing buildings, which is often the challenge when converting production systems such as cage to cage free or broiler to free range.
Cage free/barn egg
In addition to multiple aviary designs, Tecno provides 'combi' system solutions. These were designed to meet the specific requirements of conversion from cage production to barn or cage free. The design and concept of the VS range is well established. Millions of layers have been housed to date.
The system provides an easy management transition from cage layers. The system can be set up for colony layers and converted to barn/cage free at a later date.
Turnkey project capabilities
Being part of AGCO gives access to range of complementary products and services. It also offers the backing of a global corporate.
Among the companies and services are;
C-Lines – Structures and solutions for all livestock requirements;
Cumberland – Poultry feeders, drinkers, nesting, storage and climate control; and
AGCO Finance – Finance facilities for poultry farmers.
Turnkey projects can be offered on preferential terms to provide easy project management at a very attractive price. Finance can often be tailored to suit cash flow requirements. Now in Australia and New Zealand Gordon Hunter is responsible for Tecno sales and support in Australia and New Zealand.
Gordon has extensive experience in poultry management and equipment including conversions of existing buildings to meet the requirements of other production systems such as broiler to free range egg and cage to barn egg due to market and regulatory changes. He is supported by the AGCO Grain and Protein team, based in Melbourne.
They can call on the extensive knowledge and services available from source factories and beyond. They offer the resources and facilities of a leading worldwide corporate, with the flexibility, service and specialist knowledge of a local team.
To find out more about the solutions and services on offer, please contact Gordon via email at Gor don.Hunter@agcocorp.com or call 0476 760 240
For more information on any of the products discussed, please visit poultryequipment.com, cumberlandpoultry.com, c-lines.com or agcocorp.com