ON World Egg Day (October 11), Yum Yum Bakery in Guildford, NSW took out the title of having Australia's Best Egg Dish in the 2019 Eggsellence Awards.
Following a nationwide hunt to uncover the most delicious and diverse egg dishes in Australia, Australian Eggs hosted a 'd-egg-ustation' pop-up on the eve of World Egg Day where the public sampled the top four dishes as handpicked by ambassador and TV personality Manu Feildel. During five sittings people tasted each of the dishes and voted for their favourite.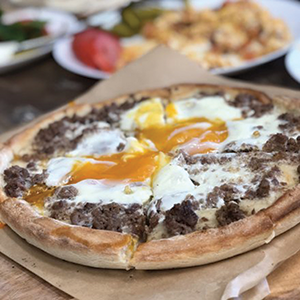 The top four dishes featured at the pop-up included:
Awarma and egg pizza by Yum Yum Bakery – Confit lamb topped with a runny sunny-side up egg, baked on a warm flat bread dough with a light sprinkle of za'atar.
Beef carpaccio, fried truffle egg, rocket and pecorino by Grain of the Silos, Launceston, Tasmania – Grass-fed beef carpaccio, crumbed, fried truffle egg, pecorino and rocket.
Turkish poached eggs by Mount Street Breakfast Bar, West Peth, Western Australia – Fresh dill and cucumber yogurt with poached eggs, herby chimichurri sauce and nutty spicy Aleppo butter with crispy sourdough bread.
The Bosphorus Benedict by Rustic Pearl, Surry Hills, NSW – Poached eggs on sourdough with bay lobster, smashed avocado, house hollandaise, fresh shiso, golden sesame and chilli.
Yum Yum Bakery's Najib Haddad said, "I'm thrilled the Awarma and egg pizza won the 2019 Eggsellence Awards." "It's a favourite with our customers, so we're proud to share it with the rest of Australia. "People often overlook the humble egg but in my dish it's the egg that really elevates the recipe to make it something unexpected and special. "The inspiration behind the Awarma and egg pizza comes from combining two different cultures and two different generations.
"Awarma is something I grew up with, and my dad would tell me that in his home town in Lebanon they needed to preserve the lamb meat to see them through winter.
"On top of the dish, we have added the sunny-side up egg, which is very classic Australian and something my daughters ask me to cook them every Saturday morning for breakfast." This year in Australia, more than 6.3 billion eggs will be produced and consumed locally – 17.2 million will be consumed each day.
Australian Eggs managing director Rowan McMonnies said, "Egg consumption has increased by 100 million this year compared to last – an upward trend we continue to see each year."
"Australian eating habits are shifting. "People are prioritising affordable foods that deliver maximum nutritional benefit but are also produced with sustainability in mind.
"Eggs tick all these boxes. "With the National Heart Foundation recently updating its dietary guidelines to remove any limits around the number of eggs that can be enjoyed as part of a healthy diet, we expect this trend to continue."